Akashic Records of Bastard Magic Instructor (ロクでなし魔術講師と禁忌教典, Roku de Nashi Majutsu Kōshi to Akashikku Rekōdo) is a Japanese light novel series written by Tarō Hitsuji and illustrated by Kurone Mishima.
It was first serialized by Fujimi Shobo under the their imprint Fujimi Fantasia Bunko on July 19, 2014. Seven Seas Entertainment announced the license for the the manga adaption on October 28, 2016 with the first volume slated for August 29, 2017.
Main article: Characters
Sisti is a magic-user in training who attends a prestigious magical academy where she hopes to be trained by the best of the best. However, when her instructor suddenly retires, his replacement is anything but what Sisti had hoped for—idle, incompetent, and always late! Can Sisti still learn magic and unravel the secrets of the mysterious Sky Castle with such a terrible teacher as her guide?
Main article: Akashic Records of Bastard Magic Instructor (anime)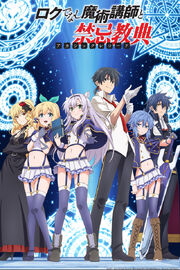 An anime adaptation by Liden Films was announced on March 17, 2016. Crunchyroll airs the subtitled episodes the same day they are released in Japan.
A few weeks later FUNimation then licensed the series in North America. The dub premiered on April 25th, 2017.
Spin-offs
Edit
Main article: Memory Records of Bastard Magic Instructor
External Links
Edit
References
Edit
Ad blocker interference detected!
Wikia is a free-to-use site that makes money from advertising. We have a modified experience for viewers using ad blockers

Wikia is not accessible if you've made further modifications. Remove the custom ad blocker rule(s) and the page will load as expected.