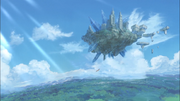 The Melgalius' Sky Castle (メルガリウスの天空城, Merugariusu no Tenkūjō?) is a huge loating castle, appears in sky above Fejite. It's served as one of noble symbols of the city.
It is said that that's the place where the very ancient civilization and the thrones of the god remains, and all the wisdom of nine worlds in the legend still sleeps. Since it is unknown when the castle exists, the mural painting drawn 5,000 years ago still has such a record. The mages who took care of this castle were called Melgalian (メルガリアン, Merugarian?).
It's also said that among those who approach the mystery of this castle, there are so many unnatural things that suddenly disappear or become dead.
Ad blocker interference detected!
Wikia is a free-to-use site that makes money from advertising. We have a modified experience for viewers using ad blockers

Wikia is not accessible if you've made further modifications. Remove the custom ad blocker rule(s) and the page will load as expected.